Today's inspiration board is a little personal for me- it's probably the most time I've ever spent on one! My best friend moved to Hawaii at the end of February, shortly after she got engaged. Since she has been so far away, she's put the wedding planning on hold for the time being, but we have discussed a little bit of what she wants. She recently made a comment about wanting an inspiration board when the time comes to start planning, so I thought I would do a sort of "first draft" for her!
She wants an intimate beach wedding, with the reception ideally in the backyard of a home on or near the beach. Her vision is something clean, simple, and fun. The colors of aqua and white immediately came to my mind. Aqua and white are so very simple, and at the same time incredibly pretty and modern.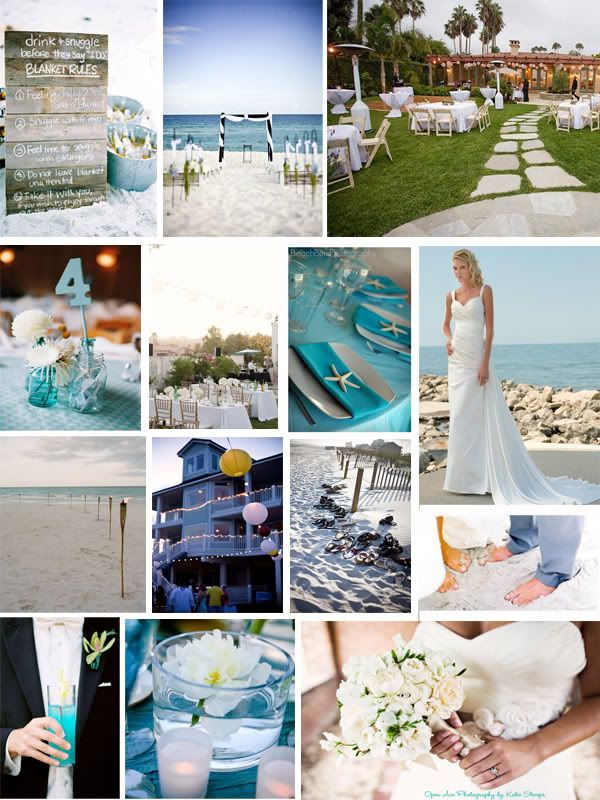 Row 1: Sign, Ceremony, Reception
Row 2: Table Centerpiece, Reception, Table Setting, Dress
Row 3: Tiki Torches, Reception, Shoes in the sand, Barefoot in the sand
Row 4: Aqua drink, Centerpiece, Bouquet
I'm loving the simplicity and casual feel that the combination of aqua and white exudes! An intimate backyard reception will be so much fun- it'll be like a big family dinner. I know that's the feel she's going for-spending her wedding day with those closest to her and her future husband.
Now I can't wait, and I'm getting excited all over again! But I will be containing my excitement until she gives the "word". Until then, I'll have this inspiration board, and probably a few more! Hope you all enjoyed it!