I guess my husband and I are what some people call "foodies". I blame it on him, because he loves to cook, and he's always coming up with new extravagant things to cook. (It makes my cooking seem incredibly below-par.) We sometimes find ourselves disappointed when we go out to dinner because we know we could have had better at home. Therefore, our recipe collection is forever expanding.
With this weekend being a "long" one, we're of course planning to barbeque this weekend. And since the summer is drawing to an end, I'm sure many people will be having their last summer barbeques this weekend! Why not end your summer on a tasty note and try some new recipes?
[For recipes, click on the links below photos]
Swordfish and Salmon Kabobs via Sunday Supper
Bay Area Burger
Enjoy the last of summer watermelon in a new way!
Tomato, watermelon, and basil skewers
Watermelon, feta, and basil salad
via Sunday Suppers
*If you've never tried balsamic vinegar on watermelon, it's amazing! Make sure you use a good quality balsamic though, not too tart.
Of course you'll need some refreshing drinks to have. Try one of these classics-with-a-twist.
Italian Lemonade
White Peach Sangria
Finally, end your barbeque with a light, chilled dessert.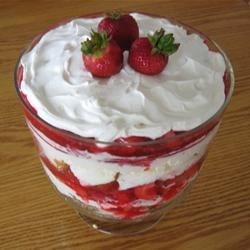 Strawberry and Angel Food Layers
Have a safe and great Labor Day weekend everyone!